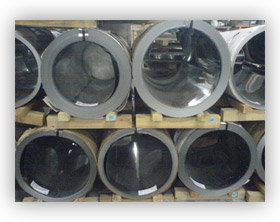 Stainless steel is an iron-carbon alloy which contains over 10% (mostly between 12- 20%) of chrome. Chrome strengthens the material against corrosion and heat. Other elements can be added to the alloy for producing custom quality stainless steel types. The most important one of these custom types is the 18-8 stainless steel which is produced by adding nickel to the alloy. Other important components added to stainless steel are niobium, manganese, molybdenum, phosphor, selenium, silicium, sulphur, titan and zircon. As high temperatures and sensitive chemical control are required for producing stainless steel, these alloys are prepared in electric hearth for a long period. In this method, scrap materials including the elements which need to be present only in the final product are mostly loaded into the hearths. Recently, a new technique based on a process where the material is first melted in an electric hearth and then treated with oxygen in another melting pot has been developed. The oxygen gas which is diluted with argon for normalizing the reaction is sprayed onto the material either through a blowpipe from the top point or through a hole at the bottom of the melting pot. Stainless steel can be classified according to its reactions against chemical compositions and the heat treatment. Non-hardenable ferritic steel which contains 15-30 per cent chrome and less than 0,2 per cent carbon; martensitic steel which can be hardened by quenching and contains 10-18 per cent chrome as well as variable amounts of carbon (over 1 per cent in some alloys); austenitic steel which contains 16-26 per cent chrome, 6-22 per cent nickel and less than 0.25 per cent carbon. Austenitic steel which can be hardened without quenching are the materials with the highest level of resistance against corrosion. .

Stainless steel is a type of steel which can withstand corrosion in an aqueous medium containing a lot of organic and metallic aggressive factors. Withstanding the corrosion caused by atmospheric factors is a special condition of that. The phrase 'stainless steel' also involves the steel types which can withstand corrosion at high temperatures in an environment filled with gas or fire.

Stainless steel is basically an alloy containing iron, chrome and mostly nickel and its basic characteristic are granted to it by the chrome element. The preventive ability of chrome included in steel stems from the affinity between chrome and oxygen. A thin oxide layer occurs on the steel when there is enough amount of chrome. This oxide layer deactivates the surface and protects it against impacts. It is essential that the surface interacts with oxygen so that corrosion resistance can be achieved. The substance which protects the surface and constitutes a layer is chromium oxide. There are five different steel types which vary according to the other ingredients they contain and which range between complete austenitic and complete ferritic characteristics.

These are respectively;

1.Austenitic Stainless Steel
2.Ferritic Stainless Steel
3.Martensitic Stainless Steel
4.Dual Phase (duplex) Stainless Steel
The most important characteristic of stainless steel is that; it does not oxidize namely, they are resistant against oxidation and corrosion. This feature is obtained by adding more than 12% of chrome into the steel. Oxidation resistances at high temperatures increase according to the increasing chrome amounts. Although it is possible to prevent oxidation by adding high amounts of nickel into the steel, adding it together with chrome ensures a high corrosion resistance especially in acidic environments. Adding some molybdenum in addition to nickel also prevents the steel against various types of corrosion. However, stainless steel types containing more than 6.5% of molybdenum are not produced as they will not be economical.
Chrome enables the steel reserve its mechanical characteristics at high temperatures. Accordingly, stainless steel types containing chrome are also used as creep resisting steel at high temperatures. In fact, steel is oxidized in the atmosphere like most of the other iron alloys and an oxide layer which we call rust occurs on it. This rust, which covers the steel surface contrary to the protective oxide layer occurring on aluminum and zinc, does not prevent the oxidation from progressing to the inner parts. Corrosion resistance of stainless steel is based on the increasing chrome amount. A lot of speculative ideas have been brought forward about this issue, namely the stainlessness of steel. Widely accepted one of these ideas claims that: a tight and thin oxide layer occurs on the stainless steel and this layer prevents the progress of oxidation and corrosion. Indeed, chrome is a less noble metal than iron considering the electrochemical tension series. The protective effect of the chrome contained in steel stems from the affinity between chrome and oxygen. The steel types containing chrome are so vulnerable to corrosion and especially oxidation as long as they are not covered with an oxide layer. So, they are called 'active'. However, this layer protects the sub-layer metal against corrosive environments when it gets a chance to constitute. Thus, steel becomes 'passive'. Limits and degree of this passivity is bound to the environment type as well as the type and composition of the steel. Passivity is permanent under favorable conditions and stainless steel's corrosion rate is very slow. There is no definite need for a chemical process so that a passive layer occurs on stainless steel. This film occurs suddenly when steel's surface interacts with oxygen. In other words, passivation process is based on the principle of removing the free iron, oxides and other surface dusts. For instance; the stainless steel produced in a steel plant is generally cleaned in an acid bath consisting of a nitric acid and fluoric acid mixture and then a passive film layer occurs immediately once it gets into contact with the air.

Stainless steel, which is available in more then 170 types, is widely used in the industry for various purposes.
Numerical representation of Carbon and Alloy Steel Standards specified by American Iron and Steel Institute (AISI) is widely used system for steel classification. This is generally known as AISI representation system as well as SAE system as its origin goes back to the Society of Automobile Engineers (SAE). The method used for steel classification within this numerical system is shown in Table-1. This system has been expanded and in some cases all of the five steps are used for showing certain alloy steel types. The last two steps are used for indicating the approximate average value of carbon rate. For example; '0.21' value indicates the range of 0.18-0, 23 per cent. In some cases, the system deviates from this rule and some carbon ranges include also the rates of manganese, sulphur, phosphor, chrome as well as the rates of other elements. Two letters are generally used as examples for the figures. Letter 'C' indicates basic open hearth carbon steel while letter 'E' indicates electric hearth carbon and alloy steel. Letter 'H' is sometimes used as a suffix for indicating the steel types which are manufactures within hardening limits. First two steps indicate the basic alloy metals such as manganese, nickel, chrome, chrome-molybdenum etc. In other words, this system shows the basic components and approximate carbon rate of steel types. At the same time, it indicates the manufacturing method used for the production of these steel types.
Stainless steel types currently used in the industry are summed in three groups:
Stainless steel with martensitic chrome,
Stainless steel with ferritic chrome,
Stainless steel with austenitic chrome-nickel.

Different types of stainless steel also have different physical characteristics and this play an important role for welding works.
Heat transmission coefficients of stainless steel types with chrome are as much as half of the heat transmission coefficients of unalloyed steel types.
Heat transmission coefficients of austenitic stainless steel types with chrome-nickel are as one third of the heat transmission coefficients of unalloyed steel types. This situation shows that the heat will be preserved in the welding area and this is supposed to cause some problems.
Stainless steel types with chrome generally have the same thermal expansion coefficients with unalloyed steel types. This value is 50% higher in austenitic steel types with chrome-nickel than carbon and low alloy steel types. This situation concerns closely not only the welder but also the constructor (designer).
Carbon and alloy steel types have a low electricity transmission resistance. This value is 4-7 times higher in stainless steel types. So, stainless steel electrodes are produced in smaller sizes as they heat more quickly and they are loaded with 25% lower current intensity than normal electrodes.
There are a lot many stainless steel types. However, they are sorted out in four basic groups other than the general classification.
"MARTENSITIC" stainless steel types with chrome
High carbon steel
Low carbon steel
"FERRITIC" stainless steel types falling into iron category
"AUSTENITIC" stainless steel types with nickel-chrome
"AUSTENITIC" stainless steel types which are rich in nickel